You don't need to be told that in a single moment, car accidents can dramatically alter your life. However, the full extent of change is not often immediately apparent. There are systems in place—insurance policies, legal rights, statutory benefits, disability claims—that are designed to help reduce the burden in a car accident personal injury case, whether those burdens are health-related or financial. When it comes to pursuing compensation for damages suffered as a result of a car accident, it's important to analyze every angle with your lawyer.
Car Accidents, Personal Injury Law, and Your Rights
For you, the words "personal injury" likely conjure up an image of physical injuries requiring medical need. This is half-right: physical injuries to yourself or your passengers are a major consideration in this sort of case. Damage to the head, neck, and back are incredibly common in car accidents, including concussions, whiplash, and spinal trauma. Emotional trauma is also a major consideration—post-traumatic stress disorder is a major and debilitating condition that is always a possibility after surviving a near-death experience. And of course, there is also the possibility of a long-term or permanent impairment, which can lead to a loss of quality of life, a loss of employment, and a seemingly endless labyrinth of disability claims and medical examinations.
The other angle to personal injury law is financial: there are medical costs (prescriptions, assistive devices, et cetera), the aforementioned loss of income, the damage to your vehicle, and more. If a person is killed, the family of that person can also sue for the financial burden created by their death, particularly due to loss of income.
The Global Health and Economic Impacts in Car Accidents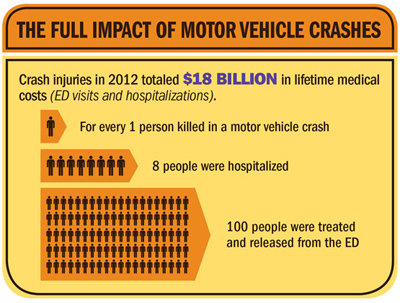 In 2014, the United Nations General Assembly determined that traffic accidents pose a major threat to public health around the globe. Further to that, they also determined that there is a major global impact to both social and economic progress. A resolution titled "Improving global road safety" was adopted, which aims to make roads a safer place for everyone in the future. If you ever have any apprehension about moving forward with legal action following a car accident-related personal injury, remember this: the world recognizes the significant impact of car accidents. There is a negative stigma around taking legal action to pursue personal damages, but you should never let that discourage you. Contact a personal injury lawyer as soon as you can to reduce the economic and health impacts a car accident has caused in your life.