After an especially cold and harsh winter, residents in the Nation's Capital can finally breathe in that sweet spring air! And now that winter is officially over, Canadians everywhere can begin to say goodbye to winter driving conditions. But even though ice, snow and freezing rain will soon be a thing of the past, it's important to remember that drivers need to be careful in the spring too. Along with warmer weather, spring also brings its own unique set of driving hazards. To ensure you stay safe this season, here are some safety tips your car injury lawyer wants you to know about.
Watch Out for Potholes
You may have heard on the news lately that Ottawa was 'awarded' the winner of the worst winter in Canada. One of the weather challenges the city faces is a freeze-thaw cycle. Not only does this create a lot of ice, it's also harmful to our roads. The result? Potholes. Unfortunately, potholes can be very damaging to a vehicle. Driving over a pothole can damage your car's alignment and suspension. In some cases, it can even cause one of your tires to blow or affect your wheels. This spring, be careful around potholes and make sure to get your alignment checked. You can also report any potholes you come across to the city of Ottawa by filling out an online form here.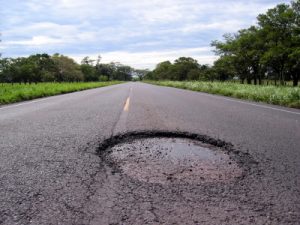 Be Mindful of Wet Roads and Flooding
Another spring challenge some areas will face is flooding. With the amount of snow that fell this year, residents should prepare for wet roads. Unfortunately, slippery roads can increase the distance it takes to stop by up to four times the normal stopping distance, so it's important to exercise extra caution when the roads are slick. Big puddles, such as from flooding, can also reduce your traction and lead to hydroplaning.
Be Aware of Increased Animal Activity
Whether they're emerging from hibernation or hunting for food, spring can be a very active time for animals. As a driver, make sure to keep an eye out any animals that may be crossing the road. If you live in a rural area, be especially careful during dawn and dusk – times when deer are most active.
Watch Out for Children on the Roads
As the weather gets warmer the amount of children playing outside will increase. Often times, children's movements can be sudden and drivers should not expect them to look both ways before crossing the street. In the spring and summer especially, drivers must be extra mindful while driving through residential areas and school zones.
Be Mindful of Runners and Cyclists
As spring weather starts to warm the air and clear the roads, the number of runners and cyclists will also increase. As any car injury lawyer could tell you, an accident involving a cyclist or pedestrian has the potential to be exceptionally dangerous. To stay safe this spring, make sure you keep a watchful eye out for sidewalks, bike lanes and road shoulders.
How a Car Injury Lawyer Can Help
By following the tips above, hopefully you'll feel much more prepared for any seasonal dangers that cross your path. In the unfortunate instance that you're involved in a spring time accident, make sure to contact a car injury lawyer. Though it's a scenario no one wants to imagine, hiring an experienced car injury lawyer and getting the compensation you deserve can make a bad situation a little bit better.