Getting injured in an accident can be devastating. In a matter of seconds, life as you know it can change. While it's hard to put a price tag on your pain, making a personal injury claim for compensation can help ensure your protection during a difficult time.
If your accident was caused by the negligence of others, any resulting physical, mental or emotional damage sustained may be eligible for compensation. Unfortunately, navigating a personal injury lawsuit isn't always so simple. In order to prevent adding stress to an already difficult time, it's important to understand how to conduct yourself to get the most out of your claim.
Five Common Mistakes Made During a Personal Injury Claim:
1. Not getting a lawyer.
Depending on the nature of your accident, making a personal injury claim can be quite complex. Seeking legal advice should be one of the first steps you consider. A lawyer will help evaluate your claim and ensure you have the evidence to back it up. They'll also help prevent insurance companies from harassing you. Without help from an experienced personal injury lawyer, you run the risk of not getting the settlement you deserve.
2. Not gathering evidence.
Anytime you make a personal injury claim you must show that someone else's negligence caused your accident. This requires proof and the more you have, the better your chances of compensation are. Having or not having evidence such as photos, videos, witnesses, records, etc. can make or break your case.
3. Not obtaining medical records.
Seeking medical attention after an accident should be your number one priority. Even if your injuries seem minor, remember that some effects, like whiplash, can take days or even weeks to appear. When you do visit a doctor, make sure you are completely honest with them, relaying not only how you feel physically, but any mental or emotional symptoms as well. By seeking immediate medical assistance, you will not only heal faster but also help secure important documentation for your personal injury claim.
4. Not keeping financial records.
Seeing as a personal injury claim can take time, many of your upfront costs will come out of your own pocket. This might include things like medical expenses, gas for driving to and from appointments and/or time off work. In order to get compensation for these expenses later, it's imperative that you keep detailed financial records and receipts.
5. Settling too soon.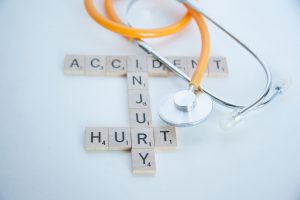 When dealing with the aftermath of an accident your instinct is most likely to move on as quickly as possible. Although getting back to normal life isn't easy when you have an ongoing lawsuit, it's important not to settle too quickly. If you settle your personal injury claim before you're fully healed, it can end up costing you later. Should your health worsen, any extra expenses you incur will have to come out of your own pocket.
Making a personal injury claim after an accident can feel overwhelming. Hopefully, this information will help you consider contacting a personal injury lawyer to assist with your claim. Having an experienced professional on your side will ensure you avoid these common mistakes and get the compensation that you deserve.